If you play contact sports, you know how important it is to wear a mouthguard. They protect your mouth and teeth from damage if you get hit in the face by a ball, an elbow, or a helmet. Mouthguards usually look pretty plain and may not fit as well as they should. What if you could customize your mouthguard to your style and your smile? You can, and Dr. Mary Trahar-Thomas at Smiles by the Bay can help! 
Smiles by the Bay has partnered with the Mouthguard Club to offer mouthguards to anyone who needs them, regardless of whether you're an orthodontic patient of ours. Dr. Mary is the only doctor in the Annapolis, MD, Kent Island, MD, or Denton, MD, areas who offers scans for customized mouthguards from the Mouthguard Club. She can help you get your customized game face on!
What Is the Mouthguard Club?
You know it's important to wear a mouthguard if you play sports, especially contact sports and extreme activities. But the popular "boil and bite" mouthguards may not offer complete protection for your teeth pre- or post-braces. They can also look a bit boring. The best custom mouthguard is designed to perfectly fit every part of your upper teeth.
That's where the Mouthguard Club comes in! The Mouthguard Club allows you to design your impact custom mouthguard for sports (football, basketball, boxing, etc.), which is then made to the exact specifications of your mouth! You can choose from one, two, or three customized mouthguards per year like a subscription service. Each mouthguard can have a design of your choosing, from premade professional designs to your sports jersey number or even your face! 
How does it work? The first step is to get a detailed, 3D scan of your mouth. That's where Dr. Mary comes in! She can provide that scan for the Mouthguard Club whether you're a Smiles by the Bay patient or not. 
From there, you get to design your mouthguard. You can do that on the website or even on your phone! You can add text or backgrounds, whether plain color or a custom image. Once you've designed your mouthguard, you can save your design for printing now or later. Then, just place your order, and Mouthguard Club will deliver your custom mouthguard to your door!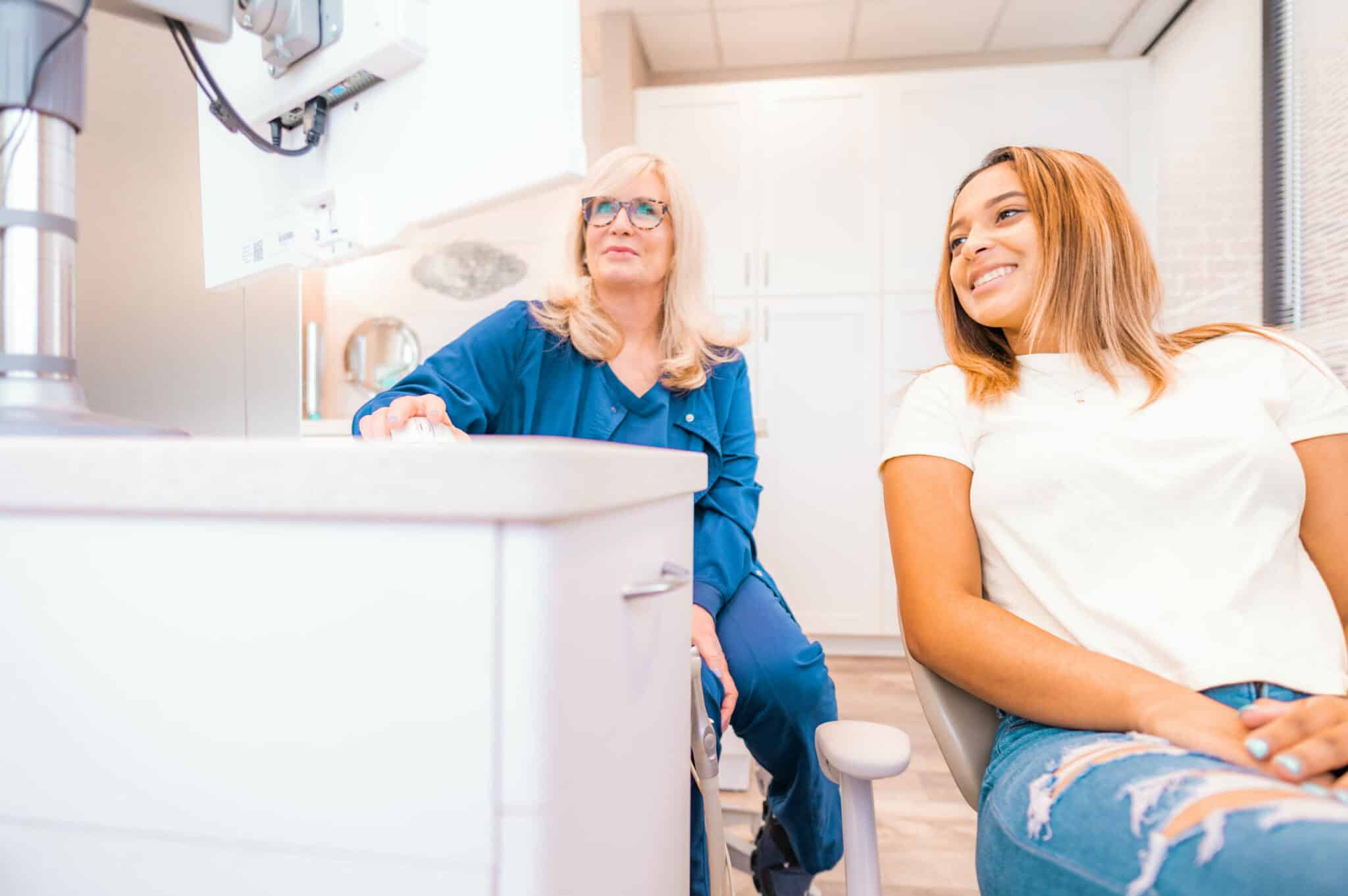 Get Your Mouthguard Club 3D Scans at Smiles by the Bay!
Anyone can join the Mouthguard Club, but in the Annapolis, Kent Island, or Denton areas, there's only one place to get the 3D mouth scans for your customized mouthguard, with Dr. Mary at Smiles by the Bay! She is the only one in the area who partners with the Mouthguard Club to provide the detailed, 3D scans to produce the customized mouthguards. Non-patients can get their 3D scan for $90. Smiles by the Bay patients get their scans for free! 
Dr. Mary uses the advanced technology of the iTero 3D Scanner, which provides exceptional images that capture every curve, nook, and cranny of your teeth. It's the same scanner technology used to create the Invisalign clear aligners Dr. Mary offers to her orthodontic patients. 
Using these detailed scans, the Mouthguard Club creates a custom mouthguard designed to fit each tooth with precision. It is designed to fit better than nearly anything you could purchase in a regular store. The mouthguards are made of two layers of protective material to cushion and protect your teeth from impacts. 
These mouthguards are made to fit directly against your teeth. While it's important to wear a mouthguard with braces, these mouthguards are not recommended with braces because your teeth change so quickly and so often, and these mouthguards are designed to fit your teeth perfectly for several months. 
Getting a Customized Mouthguard — or Two, or Three!
If you play sports year-round, you should replace your mouthguard every few months. That's because bacteria can build up on your mouthguard, even with regular cleanings. Besides, what if your baseball team is different from your soccer team? You'll want logos for each, right? We offer three different options starting at $99 for the year! 
You can get started at the Mouthguard Club website or by contacting Smiles by the Bay. We can set up an appointment for you to come in and get your 3D scan so you can customize your new mouthguard!